The content designers and UX writers are often looking for some practice tests or assignments where they can work for applying their skills and do the practice. It could be to self-evaluate their growth while seeking mentorship or they might be looking for some practice while preparing for job interviews.
I am working on a series of assignments in content design and UX writing and I plan to share these in Miro boards, for your reference. In part 1 of the series, I have set up one such assignment in a Miro board. You can see some details in this post and then check the Miro board for the exact steps and the deliverables. The Miro board is in the view only mode for public, you can create a Miro account if you do not have it, and copy this assignment to your Miro account to work on the assignment.
You cannot learn or test your content design or UX Writing skills with this kind of experience. The only goal here is to build self-talk or build conversations with your friends, peers, or contacts in your network with whom you can discuss and then possibly figure out a strategy and your approach to this kind of work.
The product and the task
Product: This is for a sustainable fashion clothing brand. To start with, they are shipping only in France and once they grow, they plan to offer shipping in the entire the EU.
Task: Explain the steps for how you (a) decide the names in the product (interface) features or stories, and (b) design the product's landing page—the website home page where the users can sign up for shopping.
Audience and their goals
A female student might hire (buy) a dress to make her look good at a college party in the campus. She wants to look slim but the dress should be comfortable to wear though it should look modern.
A man working in an office wants to hire a new jacket that he can wear in the office. He wants to wear the jacket with dark color jeans, and he wants to hire this jacket so that it could save him from cold weather (low temperature) and it looks professional in a corporate office.
The common criteria are:
They are looking for brands who talk about sustainability and carbon footprints.
They do not want to spend too as are looking for medium-budget range products. They have a taste for high-budget variety too and they can think of spending more if the product is really good.
They might look for the material (the fabric), its structure (components or features such as the hood, string, cuff, button types, flap), and then available size and color scheme.
The steps
You can follow a few steps to complete the task.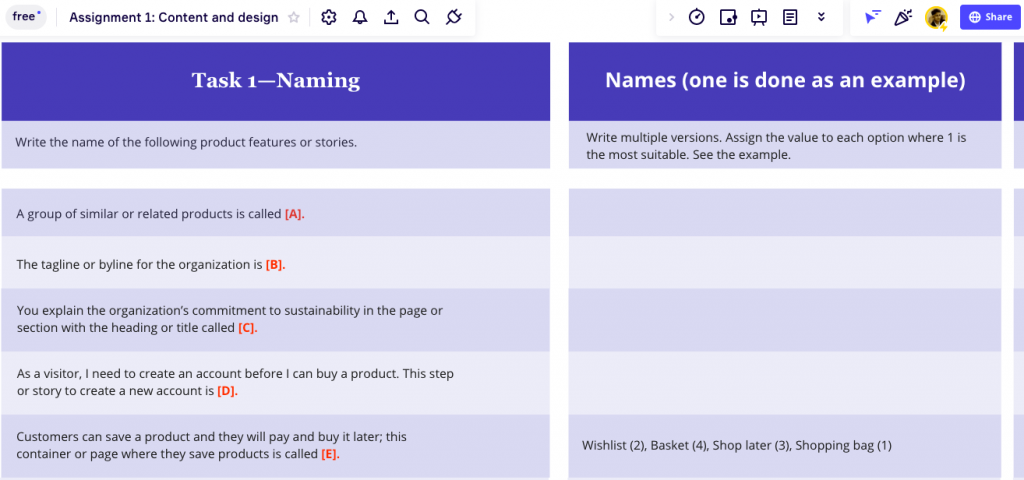 As I said, the goal is to build the conversations with your friends, peers, or contacts in your network with whom you can discuss your approach to this kind of work. If you are curious to try it—find it in this Miro board.
I plan to publish one such assignment on the Thursday in every week. Wish you good luck if you want to try these.