Like many others in India, I follow the game of cricket fairly closely. For almost twenty years now, I check with cricinfo for the latest scores of live matches. So when England Cricket Board (ECB) announced The Hundred as a new format with its own rules and playing conditions, I was excited to see how cricinfo adapts itself for this new content type, or their content model as part of their product content strategy. If you are new to cricket, here are very few basic rules of the game.
An over means six consecutive balls that a bowler bowls. A batter score runs via running from one end to another end on the pitch, or by scoring boundaries.
There are different forms of playing a match such as playing a twenty overs match, a fifty overs match called a ODI, or a test match that is played for five days.
In all cases, the fundamental rules of the game have been same for a long time now particularly since the game has been on digital records, including on cricinfo.
So by rules, an over means a set of six balls bowled by a bowler and cricinfo was already designed for these playing rules and conditions to cover the live games.
The Hundred
Things changed in the year 2020 when The England Cricket Board (ECB) proposed a new tournament, the Hundred, with new playing conditions and rules. The tournament introduced changes in the basic rules which meant that we see new types of content on cricinfo as well.
One of the new playing conditions in The Hundred was to get rid off the term overs in a match. You can have a quick look at the basic rules here on The Hundred website.
For the cricket followers, it was a new experience when the basic terminology itself changes in a new format. Let's have a look at the two scoreboards from two matches in different formats.
A conventional 50-overs match that we are following on cricinfo ever since it was launched (I guess I have seen it since around 2002).
The other scoreboard is from a match in The Hundred and it shows the new kind of playing rules for this new format, and new terminology.
Scoreboard from a 50-overs cricket match on cricinfo
The unit to measure the bowlers' work is in overs as you can see for Boult, Henry, Neesham, Santner, and others. Boult bowled 10 overs while Neesham bowled 7 overs and Santner bowled 3 overs.
Scoreboard from a The Hundred match on cricinfo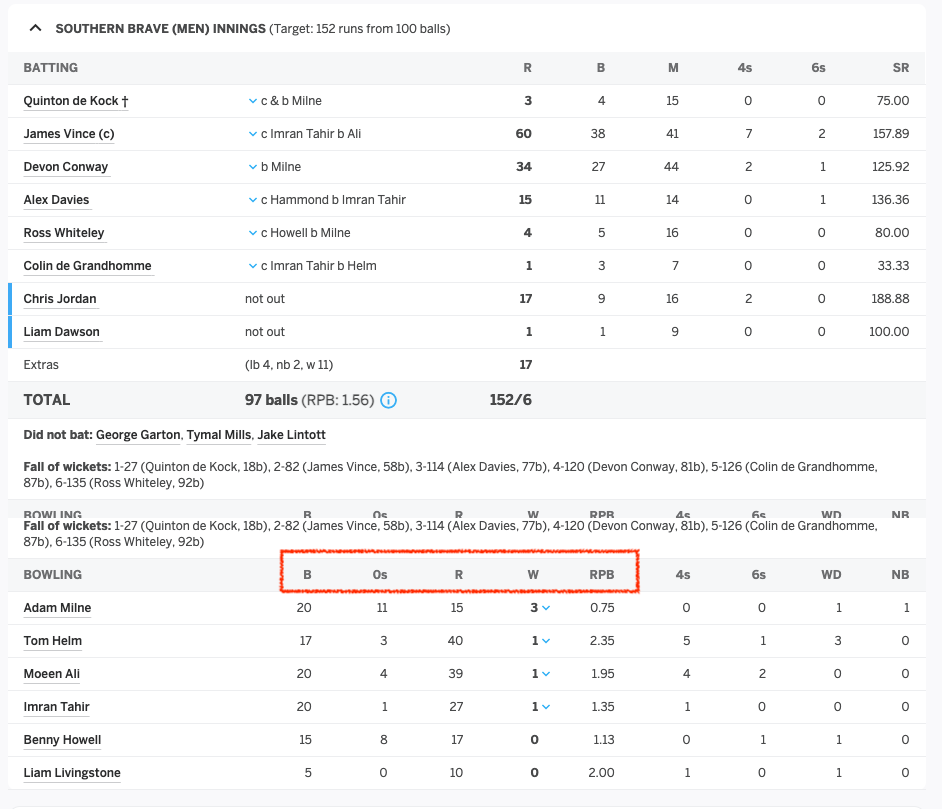 The unit to measure the bowlers' work is in balls as you can see for Milne, Helm, Tahir, Howell, and others. Likewise, the performance of each bowler is measured in different units.
In the fifty overs match, you see ECON which means the economy rate for the bowlers.
In The Hundred scorecard, this is RPB which means Runs Per Ball for each bowler.
For cricinfo, covering The Hundred must have involved some changes in the product architecture to accommodate an entirely new content type because of the new terms involved. Also, these are connected to their legacy content such as the players' profiles and their career records.
I was curious to know how the cricinfo product team might have planned for these changes, deep in the data layers, and how new content types (or whatever the team calls these whether pages or entities or information types) impact the content models, how these intersect into the players' profile for their records and stats for taxonomy and data aggregation, and how these shape up as the user experience.
I tweeted it to cricinfo in July 2021.
The conversation was disappointing and coming it from their product manager was quite an ordinary experience.
According to them, they just changed the UI which seems surprising to me.
The team's understanding and knowledge of data models could have just killed the user experience. And I can see the gaps somewhere else if not in The Hundred yet. Jeff Eaton shared an excellent Twitter thread on the relationship between content models and data models (see the Twitter thread).
For example earlier in the post, I mentioned how cricinfo adapted new terminology by replacing the term batsman with batter. There are live examples where I see that they still use batsman and batswoman both, interchangeably, such as on the Maddy Green's profile (see it on cricinfo, opens in a new tab).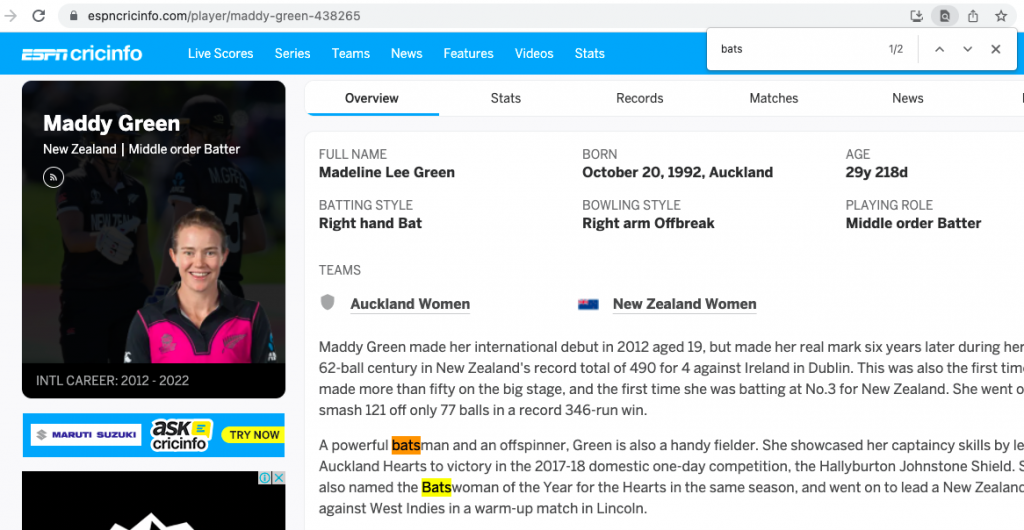 The way cricinfo has adopted The Hundred as just another tournament but with new rules and in new terminology, is perfect for their audience. Introducing a new content type that brings its own terminology and even data models might be some challenge or experience for their product team. I wish their teams had better ways to share the story when I asked them rather than calling it merely UI changes.
It shows the state of product content strategy and content design in Indian product teams—something I have been saying for years now.