Earlier this year, one of my friends in Netherlands was looking for a masters degree or a course in content strategy and content design. They had completed a graduate course in graphics design. Since I knew about one such program by FH JOANNEUM in Austria, I recommended it immediately. We thought we should find more such courses and programs in other universities in Europe so that we could compare, but we could not find many options.
In fact there are many universities that have courses in design, UX, digital design, industrial design, and other digital disciplines such as digital marketing. I remember that one time in the past, I had seen a Design Thinking program by Aalto University.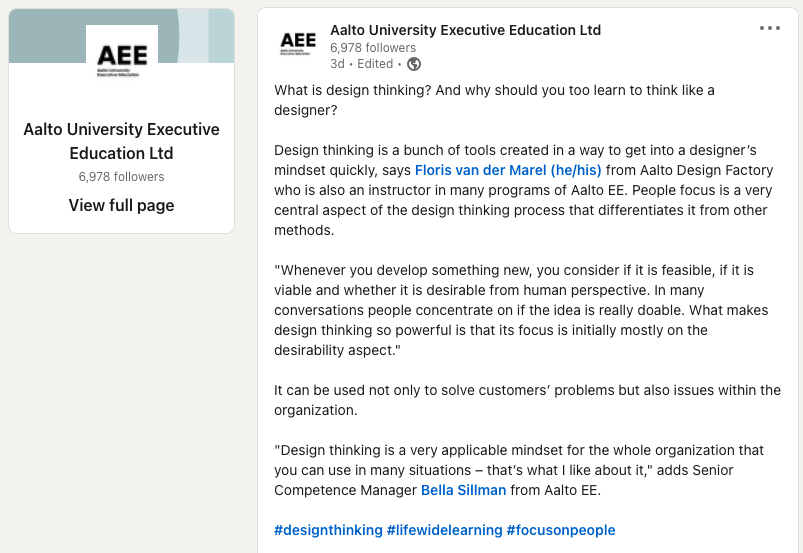 So, I thought of checking the university programs for content, but there are none. Surprisingly, many universities talk about products, design, marketing, leadership, and management, but they do not talk about content. This sentiment is carried forward to the industry, in the talent pool, and in the digital work. For example:
University of Barcelona has many masters degree programs in design, but only one in digital content management. Even in this content program, they do not talk about content strategy or content design.
Aalto University has a few programs in product management, design thinking, and service design but not a single course in content strategy or content design.
EU Business School, by OMNES Education offers courses in design thinking, digital marketing, digital business but there is no course in content strategy or content design.
eCornell, Cornell University's external education unit provides a number of courses in design, UX and adjacent disciplines in digital work but I cannot see any content strategy or content design course.
And this list goes on.
The universities are preparing digital professionals for real technology work in startups and in established companies, or for their own products. They offer courses in leadership, marketing, product management, design but most of them miss out an equally important element in the digital product life cycle—content strategy and content design.
The market for the jobs in content designers, UX writers, and content strategists has opened up. So many companies who have offices in the Europe are hiring for the content practitioners with the right skills. The universities can do a huge favor to the industry by preparing multi-dimensional talent pool for our digital work—by offering content programs and courses.
Content brings clarity, structure, and the right directions in how an organization invests in its digital investments. A content strategist or a content designer validates a lot of assumptions in our digital work.
I am running two advanced courses in product content strategy, content design, and UX writing, for a content-driven-design-driven product strategy and product management work in the digital teams. If you want to know more about how content strategy and content design make the products more saleable, scalable, and relevant to the business goals, see a few of my recent posts:
I wish more universities plan advanced courses in content strategy and content design as independent programs, and as part of their design programs too. This talent pool will take the technology forward in the right directions.