Writing is such a subjective skill. Artists and copywriters have been using their judgment, craft, and skill since ages to frame the message with the right use of words, and sometimes with a mix of words and brush strokes. Conventionally, content writing or copywriting were seen as craft and there were a few theories about their publishing lifecycle but not many standardized methods or frameworks for the writing operations or intelligence.
Unlike the code in modern technology where you can run it to test whether it works, writing is subject to interpretation, and hence is a lot about context. Since it is about the context, its workflow, operations, and the value for the organization bring their own challenges.
For the audience, the success of content means that the product or technology enables them to do or know what they want to do or know. For the organizations, content is much more than writing which means that content strategy is much more than the content itself.
In digital product teams, content flows across different teams and functions in all directions. So establishing the standards, practices, and the common ground for how we work in a certain way, and who needs to understand it while planning and writing the content becomes so critical to the organization's success. One of the pillars of content success in an organization are the operational cadence, by designing a shared access to shared vocabularies that facilitate content production for the right velocity and momentum in different teams for whatever their specific goals are.
Writer
Over the years, content technology has helped us in different ways, from the tools that help us generate hierarchy of taxonomies, to content management systems, and the latest being the category of AI-powered writing assistants. Modern tools like Grammarly bring efficiency to our writing while content collaboration tools such as Ditto or String help us work directly on the interface design.
However when I think of what Figma has done to design, the content technology lags behind to match design for the speed in the content operations that actually facilitate writing.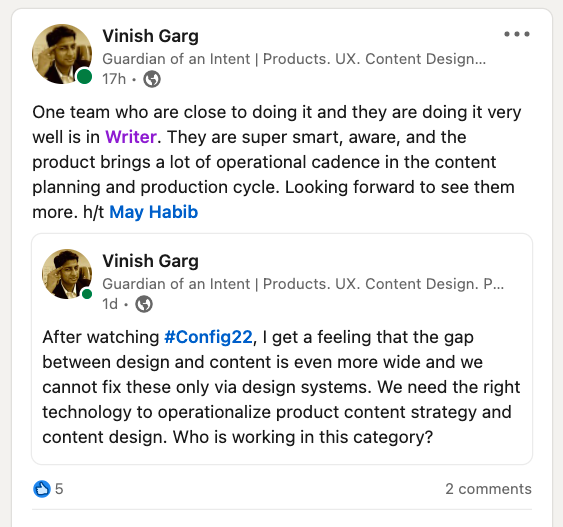 (See the post on LinkedIn, opens in a new tab)
If you are a content strategist or a content designer, welcome to Writer.
Writer is an AI-powered writing assistant that enables a whole team to write better. It means that Writer helps you set the groundwork with custom rules for high quality writing across a group of people.
You can first define the editorial standards and guidelines, the terminology, the workflow for the team even in multi-product brands, and set up a reuse strategy via intelligent snippets, before you start writing.
Writer for Figma, Chrome, and MS Word
For content strategists, content designers, and UX writers, planning and writing the content directly in the design is one of their most common demands. Writer listens to you because Writer works in Figma too. See what Lisa Young, Content Design Manager, at Twitter says—"We can work a lot faster. It used to be where we had to re-litigate every decision because we didn't have a single source of truth." (See the story of how Twitter content strategy team uses Writer)
Writer helps you write better in Chrome and in Microsoft Word as well.
Much more in Writer
Team snippets—enables content reuse anywhere
Roles and permissions—contributes to authoring-reviewing-publishing workflow across teams and functions
For multi-product brands—supports enterprise-wide content strategy goals
Custom rules for your brand and style guide for automated strategy adherence
Example—Snippets in context
Example—Terminology management
See Writer in guided video tours
Writer's support center has tons of videos to show how it works. For example, see the Writer video on snippets (opens in the Writer support center).
Writer for content intelligence and velocity in content operations
Writer is not only a technology where you can set up the style guide or inclusion glossary and establish the content production workflow for the teams. Many companies are already doing it in the world by using a variety of tools. Write elevates the content authoring experience as well—you find the joy and the momentum while writing the content.
Writer helps you design the foundations of the collective intelligence of the content team for 'how we work in a certain way, what are the documented standards in context of our specific needs, and how it helps the organization'. Rather than maintaining the glossary and style guides across wikis, CMS, and Notion libraries for a fragmented authoring experience, Writer brings the right structure, clarity and hence the speed in content operations.
We do not need a Figma for content because as I said, the content challenges are different from design challenges. But Figma has brought a lot of unified operational efficiency in the design teams. Figma's rise also means that the speed with which design technology is growing is far more than how content technology is shaping up.
Writer could be the tool that can help content match the speed of design.
The Writer customers
I like how Twitter and Intuit teams have shared their stories of using Writer.
The content technology for all
I get a feeling that tools like Writer could be the base for future content systems that are independent from the modern design systems, and are specifically designed for content operations and not merely as an inventory of content guidelines. We need intelligence that we can map with the key product metrics.
May Habib (see their LinkedIn) is a visionary leader and the team is super clear of what they want to do, and how, and for what category. I am excited to see how it grows.
PS: This is an opinion post and I am not working with or for Writer in any role.