Ever since I announced my two courses in content strategy and content design, I have received interesting questions by some people. The goal is certainly not to sell the courses but to build some conversations around how we work, where are the gaps in what we are doing and how we want to work, and how we can close this gap for a more fulfilling working experience.
If you look at the course details whether in Directions or in Standards, we are not talking about how to write content or how to design the customer journey.
Our work in content and design is such an interesting mix of skills in figuring out and understanding what we are doing, and for what goals. It involves raising the right questions, proactively, to form a collective understanding of how we make things possible, and better, and how we can address the issues that stop us doing our best.
A few questions by the audience
Q: Will you discuss UX design too?
A: Can we discuss content without design or UX? Can we even write a blog post without understanding the interface where it lives for its structure, usability, hierarchy of information, the CTA, and the customer's goals? Everything about content and design is very closely baked in the course discussions.
Q: I am the first content designer in my organization and my marketing manager is working here for more than two years. She works a lot differently. Will the course help me build my own team, and to learn how I can work with the marketing manager?
A: In the organizations where there are no content teams, the other functions such as marketing build their own processes based on their experience and needs. In the course, we shall discuss how to work with others, how to build relationships and the systems of work without proving anyone wrong. This topic is quite subjective and broad and there are no templates to work in such situations. We need to find ways to identify what works best for the organization and then we can align with others and gradually strengthen our voice and role to fix the gaps in content production and workflow.
Q: We have a team of five content designers directly reporting to the design manager. I love working on designs too, and I am planning to move into UX. Our organization is big and so I am not sure if this course can help me identify my career path.
A: Well, the course does not advise you on career path because that is not the goal here. The way we discuss our work, capabilities, how we should work for our role in the product, the course adds a lot of clarity on how best we can contribute to the product success. You might end up knowing yourself a lot better for your skills, judgment, interests, and curiosity, and which means you will be more sure of what you want to do next.
Q: What kind of exercises or activities are planned in this course for the practice?
A: See an example exercise in this Google drive document, you can find more examples in the course details. In addition, we will see many real-time examples of what makes or breaks a content experience which means its direct impact on the product. I use many such examples in my writings (see my blog).
Q: I am leading a content team and we have a reasonably mature content team and a design team. I am looking forward to learn about the options in career path—possibly in design leadership or product or program management. Does this course talk about career path for senior roles?
A: Well, the course does not answer all the questions about the content and design career paths. The basic goal is to identify how we want to work and for what kind of impact on the organizations. If you are planning to move to product management, the course talks about this shift. If you are looking for deeper and contextual pros and cons of whether you should move to product management, this is not within the scope of this course. However, you will get an introduction to why and why not to move to product management, and we shall introduce you to a few product managers with content and design background with whom you can check for more detailed questions.
Q: I am doing content strategy for five years now and now I want to apply my learnings so far to the big picture organization goals. What is in this course that can help me?
A: For the course participants who are working in senior roles, we shall discuss the role of content in org design and redesign, the organization's ecosystem for its brand positioning, and for applying our content and design learnings as system thinking. I wrote about it in this blog post but the course talks about in more depth and breadth.
Q: I need to work on my own skills and practice which I might not be able to put into my real work practice. How can this course help me raise my standards, and then help me apply these into my work?
A: Your rewards of learning are not always the same as the rewards of work. We can try bringing these two closer but we should place the higher bet on the rewards of learning. Once you know more, you will always find ways to put these learnings into work even without expectations of the rewards of work. Being in that state itself is the reward—it adds strength to our working frameworks, our belief system, our decision models, and our relationship with the people.
More questions? Write to me at vinishjg (at) gmail (dot) com.
The course goals
The basic goals of the course are:
Identify the patterns in how we work, how we think about our work, its impact on us, on the products, on organizations, their customers and audience, and on the industry as a whole.
Identify why a few products succeed and many others fail, this can be about the design, sales, strategy, leadership but we as content and design practitioners can always play a role
Work on forming habits and set our own standards for how we work and why we work in a certain way—our own *manuals of how I work* for our own reference is for self-clarity and for establishing the standards
Apply the content strategy and design concepts in how we work
Understand how we can contribute to the product success and to the organization goals—we are not paid to set up a CMS or taxonomy or style guide or to write content; we are paid for some bigger goals even if our clients and employers do not understand it or discuss it.
Invest in our own learning models and frameworks and use these as repeatable systems in context of the business or product use case.
You can see the courses page for more context of how new content strategy and design practices are such a good investment for our work. See a quick outline of the two courses.
Directions
Why we are talking about design or content? Why should we care? Why an organisation exists? What happens to the content over a period of time?
Understanding content and design, and content strategy in the context of UX, design, products, examples of content-led, examples of design failure and content failure.
What is content strategy, its relation and mappings with other functions and teams, content strategy and content marketing, content design, UX writing, product marketing, brand positioning, brand narrative.
Discovery and synthesis, customer journey practices, foundations and architecture, messaging, taxonomy and metadata, content models, content lifecycle
Interface—working with design for user stories, JTBD, designing interactions with words, alignment for org goals
Continuous discovery for customer journey—unified view for complex and unpredictable customer journey as viewed by different teams, customer moments, customer intent, customer sentiment, and customer goals
Content systems and design systems
Content and design—baked together across functions, for scale
Standards
Everything in Directions
PLUS
What makes an organisation? The people, the alignment, the goals, the incentives, and the changing dynamics when the product grows, the impact on different teams, workflow, and the benchmarks
Early stage functional alignment—shared goals, shared vision, systems-alignment for org growth—overview of product metrics
Operational cadence in product teams—the role of content
Our operating principles, models and frameworks, leadership trade-offs, align with systems and standards for the org's vision—system thinking
Content strategy directly mapped with SaaS onboarding, retention, and churn, content for product metrics
Adjacent concepts: Cost of delay, decision models, transition to product management
After day 3, select a topic for deeper insights:
Content leadership to design or product leadership as an independent consultant, OR
Content and design for system thinking
Liz Wiseman says in this First Round Review post—"Experience creates a number of blind spots. With time, we obviously gain knowledge, wisdom and more data points to inform our power of intuition. We build confidence and networks, but we're also creating blind spots. When your mind recognizes a pattern, it tends to stop innovating. You're no longer looking for outlier possibilities, you miss opportunities."
A course cannot teach how to write content or how to plan design. A course helps you build conversations for how we work, and how we work on our practices, habits, and working models. Questions? Write to me at vinishjg (at) gmail (dot) com.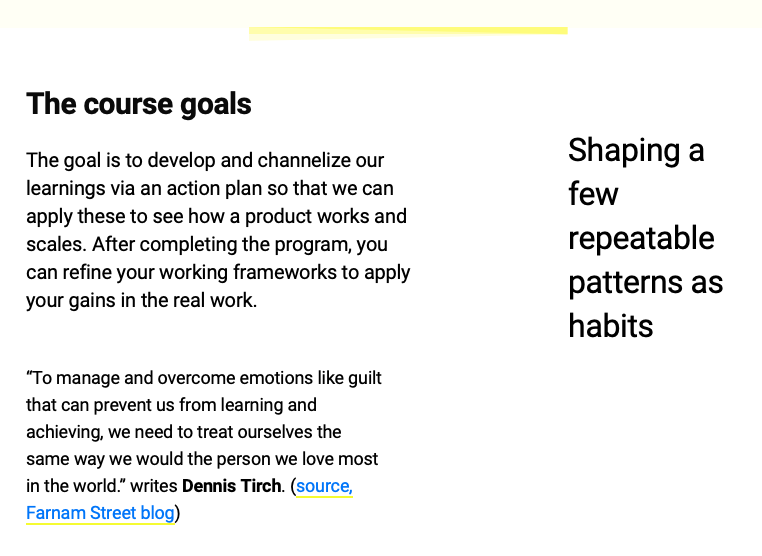 See the courses page and find out if the course is fit for your career path.