I started Outcome as a UX and content conference in Chandigarh, in the year 2018. When I started traveling for the technology conferences in the year 2006, I never had a real work use case or any specific technology challenges that I wanted to know by attending a conference. I worked in small organizations and agencies and I never asked my organization to sponsor for my travel or conference ticket.
The goal of attending a conference was to add to our curiosity to know how others work, how others share their stories, and to build relationships. It was not about finding the answers to how I should be working in specific situations—it was much wider.
When I thought of doing my own conference in 2018, I shared the story in this post. Since then things have changed a bit about its audience and positioning though the fundamental goals remain the same.
Outcome 2023 is coming up in February 2023 and here are some details.
We, you, and them
Outcome is one-of-its-kind international conference in India that talks about product content strategy and content design, and on the same stage where we discuss UX and design, product management, SaaS onboarding and growth.
In 2023, we will talk about civic tech and system thinking as well. At least a couple of talks are planned on the intersection of digital design and content, civic design and civic tech, and system thinking.
So, the conference is meant for anyone who works in digital product teams whether you are in UX or design practice, content strategy or content design, UX writing or copywriting, product marketing and positioning, brand narrative and architecture, information architecture and design, content management and taxonomy design, product management and leadership, business analysis, marketing research and analysis, system design and system thinking, or other adjacent roles in digital teams. And every organization has a digital team.
The call for speakers
The call for speakers is open.
I have received 40+ submissions so far and a few of these do not really align with the conference theme and goals. So in one of the conference newsletters, I shared many examples of the types of talks we encourage and welcome for the submissions.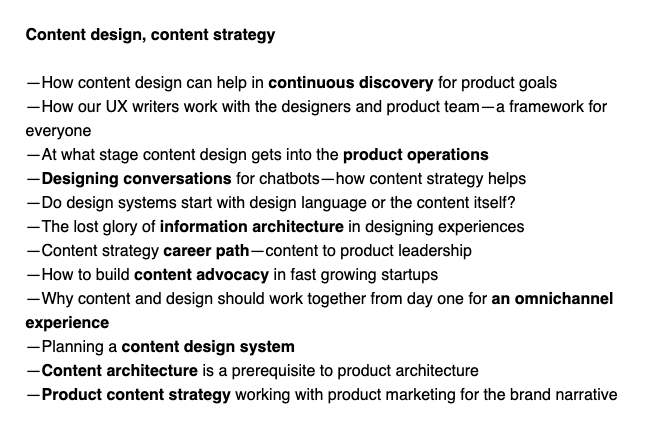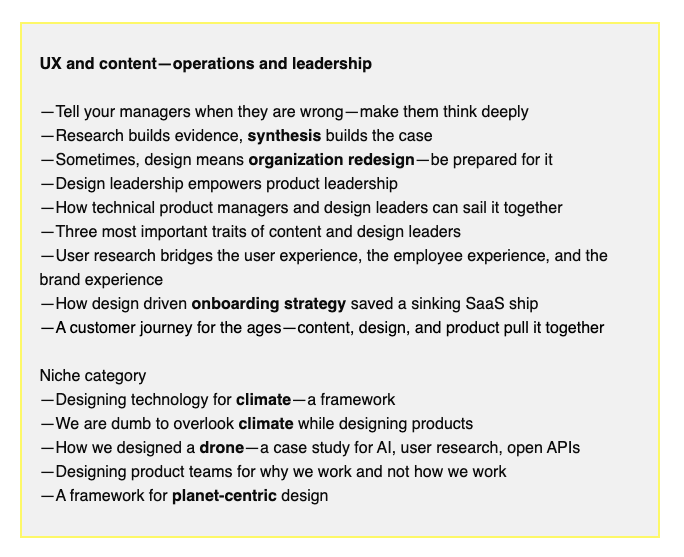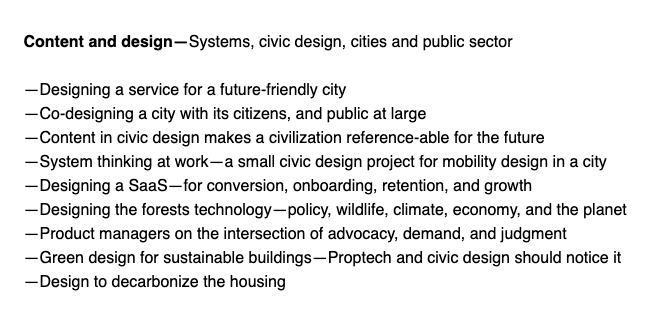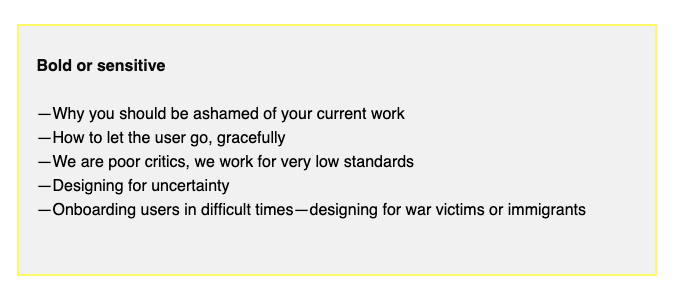 The call for partners is open
The call for partners is open.
Outcome 2023 gives you a chance to showcase your products, services, frameworks, vision, and the why of your work. Download the Outcome 2023 partners' kit to see the details for how we work with our partners for their positioning and outreach goals.
Chandigarh—the best city to talk about UX, design, and systems
Outcome welcomes you to Chandigarh—one of the most well-designed, structured and beautiful cities in the world. So, the city is a near-perfect reference to how we should plan our digital products that can sustain beyond your immediate goals.
When you are in the Outcome 2023, you will carry very fond memories of Chandigarh with you not only because it is so beautiful but also because it will keep on coming back to you for its relevance in our digital work.
The stage is set to discuss the UX and design practices, content design strategy, the design systems, in the context of our own standards for how these make sense in our work for the product metrics and business goals. I cannot imagine that we can discuss design in any other city that is better than Chandigarh.
When you are traveling to Chandigarh for the Outcome 2023, we shall share a detailed guide for all these destinations and hotels, food, safety, transport, and places to see, for your reference.
Tickets are on sale
The early bird tickets are open for sale and this early bird pricing is closing today. The tickets prices increase on 16 September. Get your tickets today to save before the prices increase tomorrow.
A quick reference to the incentives
On top of the many incentives that you can see while buying the Outcome 2023 tickets, see how our digital work is much more than a pinch of CTA and 15 ounce design, the story of Toggle Clark, and our hidden incentives.
If you are in India, the stage does not get any inclusive than this. If you are outside India, Chandigarh brings you an added incentive and a new perspective to plan our digital work. Over to you now.